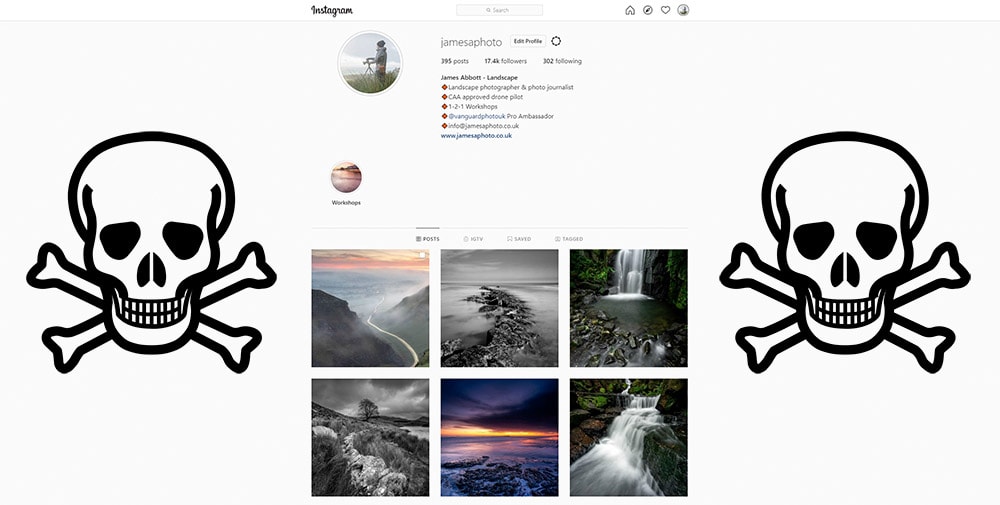 When a company contacts you and offers to 'gift' you something in return for producing an advertising post and stories on Instagram, they're not gifting anything, they're trying to exploit you. By taking part, YOU are helping to devalue the photography industry – the industry you're either working in already or wish to break into.
I was recently contacted by a marketing company on behalf of a large multinational outdoor clothing company asking if I was interested in producing advertising posts on Instagram in exchange for a £100 jacket. Or if you consider the fact there was an active sale on the company's website at the time, an £80 jacket.
My aim with this blog post isn't to name, shame or attempt to punish the companies involved in some way – they're just the tip of a filthy iceberg. Instead, my aim is to try to educate both brands and photographers tempted by these collaborations that this sort of behaviour is unacceptable. And if it doesn't stop, professional photography and the ability to make a living from it will cease to exist, and all parties will ultimately suffer.
Below you'll find the key emails with a few notes added to share my thoughts at the time. The email conversation itself says much more than I could ever say on my own…
First email

Hi James,
How's your day been?
XXXXXX would love to work with you on our ongoing campaign with the UK's National Parks as we've seen the amazing content you've created in Norfolk Broads.
XXXXXX is official outfitters for the UK National Parks and we'd like to kit you out in a product of your choice (see options below) to explore and enjoy your local National Park now that lockdown is easing and we are able to benefit from the great outdoors again.
In terms of content, we'd be looking for a minimum of 1 X IG post and 1 X IG story with 3 frames, showcasing how you are 'unlocking the outdoors' and inspiring others to get out there and enjoy Norfolk Broads. We'd share a full brief on this with hashtags and handles and inspo should you need,
Sound good? Let us know your apparel size and choice of product and we'll get cracking. If nothing from the below is suitable for your adventures, we'd be happy to discuss alternatives,
Look forward to hearing from you,
XXXXXX
OK, no mention of a budget, so let's ask about that because what's being proposed here is the production of advertising content, so surely they have a fee in mind and would like to know my day rate.
My first response

Hi XXXXXX
It's been good thanks, busy but good. Hope you've had a good one.
Thanks for taking a look at my Instagram account and glad you like the images from the Broads.
The collaboration sounds interesting, would you be able to let me know what the proposed fee for the content is, please?
Thanks
James
Second email

Morning James,
Thanks for your response.
Unfortunately this is an organic campaign, budgets are hard to come at this time (as I'm sure you understand). However that is not to say that paid influencer campaigns / photography would not be available in the future should you agree to this one off campaign and XXXXXX like your work.
We are looking to gift you any of the above jackets in return for 1x IG post and 1x IG story (3 frame) tagging the brand while showcasing how you are 'unlocking the outdoors' and inspiring others to get out there and enjoy Norfolk Broads.
Let me know if this is still of interest.
Thanks, XXXXXX
So there's no budget, mmmmm, this is an extremely large multinational company we're talking about here, and what on Earth does 'organic campaign' mean? Well, I think we can exchange the word organic for exploitation and we're getting closer to the truth. And what about that old chestnut about free work leading to paid work? Basically, that rarely if ever happens so don't fall for it! Once you're providing work for free, what incentive does a company have to suddenly start paying you?
My second response

Hi XXXXXX
Thanks for getting back quickly. I'm afraid I wouldn't be able to participate because I'm a full-time freelance photographer and photography journalist, and simply don't have the time available to spend a day out shooting advertising content in return for a £100 jacket. Expenses and loss of earnings would essentially make this a charity exercise, and I have a mortgage and bills to pay.
I strongly oppose this type of exploitation of photographers by companies, but especially those with huge global reach and revenues. If any company would like a photographer, no matter how experienced, to produce advertising content for them, it must be paid accordingly.
Thanks for considering me, but on this occasion I will have to decline.
Thanks
James
I'm really not happy with the response I received, but a polite yet to the point reply from me was required to share my feelings on what was being proposed. The only way to stop this type of exploitation is to say no and explain why it's wrong, even though the companies involved know that it's wrong. They won't stop doing it until photographers stop them.
What we can learn from this
I can appreciate that aspiring and up and coming photographers on Instagram and other social media platforms could be seduced by the lure of 'working' with a large brand. Of course, you can say you have worked with huge brands on your website and hopefully that will help to raise your profile as a photographer.
The thing is, getting a free £100 X, Y or Z in exchange for producing advertising imagery isn't a fair deal and ultimately harms every professional photographer and those wishing to enter the industry. What's more, you haven't actually worked with that brand.
This kind of brand entitlement isn't accidental or even ignorant, it's calculated and part of a much wider marketing strategy that seeks to expose brands to the largest audience for the least expenditure. Marketing companies, particularly their social media managers, are under huge pressure to deliver results, but that doesn't mean they're justified in their attempts to exploit photographers to reach their targets.
If more photographers stand up and say no to this type of exploitation, it will stop. But while photographers are seduced into 'working' with large brands in exchange for a product that costs a few pounds/dollars to produce, photographers and the photography industry on the whole will suffer. A watch, jacket, pair of walking boots or anything else in exchange for your photography won't pay the bills.
Whether or not you participate in these exploitative practices is ultimately up to you, but if you do stand up and say no you'll be helping to keep professional photography a viable career option, and ultimately securing your own career path in the process.
---
Learn about my 1-2-1 training sessions
Check out my Photoshop tutorials on my blog, or visit my YouTube channel where you can subscribe to stay up to date with new videos www.youtube.com/jamesabbottphoto
To take a look at more of my landscape photography click here
Subscribe to this blog