In this review of the lead generation website bark.com, I look at how effective the website is for photographers. In an ever-crowded marketplace, photographers have to do everything they can to stand out from the crowd and explore all possibilities for finding new clients. And with bark.com, potential clients effectively come to you. As well as the review, check out the comments where I discuss the website with other photographers.
What is bark.com?
Bark.com is a lead generation website offering a range of professional services from sole traders, partnerships and companies, with photography services being just one of many. To get started with the website you simply need to create an account, and from there the website will guide you through the process of getting up and running.
When you create an account, viewing leads is free, but to respond to them and see the contact details of the individual who posted the job, you'll need to purchase credits. A starter pack of 100 credits costs £96 (excluding VAT), and this will provide roughly 10 responses, although responses require different numbers of credits – ranging from six to 14 credits depending on the lead – so it could be more or fewer than this. Once these discounted starter credits have been used, credits cost £1.20 each.
Paying for responses on lead generation websites is common and the cost varies from one to the next. But a huge positive for bark is that if you don't secure at least one job from the purchase of the 100 starter credits is that they'll give you 100 credits back. So, in terms of cost, this makes the service enticing as you begin to use it.
An easy to use website
Creating an account, setting up a profile and responding to leads couldn't be simpler. The overall design of the website is simple and intuitive so it's incredibly easy to navigate. If you do, however, have any problems, help is at hand and support can be contacted by telephone or email. Being able to speak to someone seven days a week is rare for an online service, so the ability to do so with bark is a great feature of the service.
Once you've created an account, it's important that you fill in your profile because this will obviously give potential customers confidence in the photographic services you provide. When setting up your profile, you'll be asked to specify the exact photographic services you provide and the distance from your home or studio address that you're willing to travel. Only leads from this area will be displayed in your account. Also, if you regularly work in more location than one, you can specify multiple locations and distances to maximise your lead potential.
Fill in as much detail as possible when completing your profile, including adding the requested website and social media links alongside your telephone number. This could in effect help to sell your services by instilling confidence in the customer, and the ability to contact you directly by phone to discuss requirements will be welcomed by some individuals.
To view my bark.com profile and see how it has been completed click here
Following bark.com leads
To follow leads you just have to click on the 'leads' button on the main menu bar of the site when logged in. In the minimised listing you'll be able to see the service category, a basic description of what's required, location, how many days ago the lead was posted and how many credits you'd need to use to contact the individual.
Clicking on the listing will expand it so you can see more details to help you to decide whether or not to submit your details. If you wish to do so, simply click the 'submit your details' button, and your interest in the job will be passed onto the individual. At this stage, the email address and telephone number of the individual will be provided as you've paid to contact them. Plus, a message box opens so you can send a direct message through the website.
Get in touch
Sending a message is highly recommended because this is where you have the opportunity to provide more information about yourself and your service in relation to the job. And this will obviously make you stand out from the competition. If the individual has provided a telephone number, this is useful because it allows you to follow up leads to learn more about their requirements and to provide more information about your services.
An average value for the requested service is also displayed, but this doesn't impact on your pricing and you're free to quote your own prices; it's more of a guide for the individual creating the lead. When sending a message to the individual through bark.com, you have the option to provide your quote or to select a checkbox that says you require more information before providing a quote.
If you're not interested in a lead, however, you can simply click on the 'not interested' button and the listing will be hidden from the main view, but it will be available within the not interested section of the leads tab. This is useful because it means you can eliminate jobs that aren't relevant, but they're not completely removed.
How to get bark.com reviews
Customer reviews are a great way to show potential customers that you're good at what you do. In the digital world, a positive review is arguably the equivalent of word of mouth, and we all know that referrals are one of the best ways of obtaining new business.
Obtaining reviews on bark.com is extremely easy. Once I'd input my Facebook account into my profile, bark pulled through the reviews that I'd obtained through the social media network. So before even getting work through bark.com, potential customers could immediately see my Facebook reviews.
This is a great way to get started and to instil confidence in potential customers, but there's also another way to gain reviews and that's by asking previous customers to add a review to bark.com for you. This could be done simply by asking them, or you could add the button below to your website which links directly to bark.com so people can add their review quickly and easily. My review badge can be viewed below.
Verdict
Lead generation services aren't for everyone, but there's no denying that some professionals find them an invaluable tool for helping to drive their businesses. There are many lead generation websites out there, and bark is one that simplifies the process thanks to an easy to use website with excellent support. Only leads that are relevant to your area and specialisms are delivered to your account, and you decide which ones you would like to use your credits to contact.
With the cost of contacting a lead ultimately costing between £7.20 and £16.80, the 14 credit leads aren't cheap to contact so you certainly wouldn't want to contact every lead that's delivered to your account. In reality, not all of those leads will be relevant to your business and you may not be available on the required day anyway, so it's likely that you would only contact one or two leads a week.
Looking at the system this way, the cost of contacting leads is comparable to that of running Facebook, Instagram or Twitter adverts, which is something many photographers run as part of their marketing. The advantage of using bark, however, is that you're not just putting your name and service out there and hoping for the best, you're in direct contact with people who are looking for the photography services you provide.
The true test of success ultimately comes in the form of the number of conversions you make, and factors such as how well your profile is completed, customer ratings/reviews and cost of your services will always play a part in the number of customers you gain through any form of advertising and lead generation. Ultimately, the only way to discover whether it will work for you is to give it a try.
---
The Digital Darkroom: The Definitive Guide to Photo Editing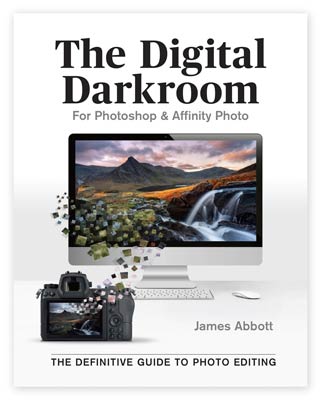 My book, The Digital Darkroom: The Definitive Guide to Photo Editing is now available. Photo editing is a vital part of the image-making process. Just as darkroom techniques were important skills to learn in the days of film, a clear understanding of post-processing is now key to getting the most out of your digital pictures. Easy to follow and accessible for readers of all levels of knowledge, The Digital Darkroom is the definitive guide to post-processing for users of Adobe Photoshop and Affinity Photo.
To find out more and order your copy click here
---
Improve your photography and Photoshop skills with a 1-2-1 training session
If you enjoyed this post you can support this blog on Ko-fi here
Check out more of my Photoshop tutorials on my blog, or visit my YouTube channel where you can subscribe to stay up to date with new videos www.youtube.com/jamesabbottphoto
To take a look at my landscape photography click here
Subscribe to this blog