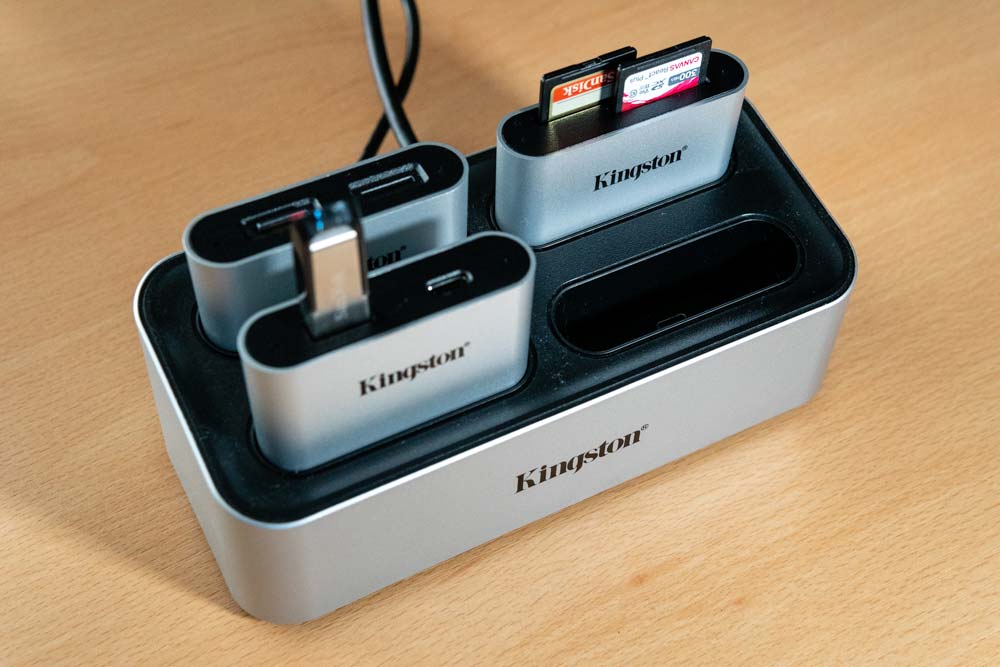 If you're a photographer or videographer regularly downloading stills and video from multiple memory cards, you'll be all too aware of how time-consuming this can be. With many card readers available we're spoilt for choice, not to mention that many SD and Micro SD cards come with a single slot card reader. So, what's the Kingston Workflow Station, and how can it improve file transfers for content creators?
Quick verdict
The Kingston Workflow Station is a card reader solution aimed at professional photographers and videographers who require the ability to download multiple cards at the same time. Thanks to fast transfer speeds and a huge amount of convenience, the Workflow Station is a great option for busy content creators despite the cost of £102 for the Workflow Station, and £39 for additional dual microSD and SD card readers.
Pros
Fast transfer speeds
Modular design
Card readers can be used individually
Cons
Workflow Station requires a power supply
Expensive to fill each card reader slot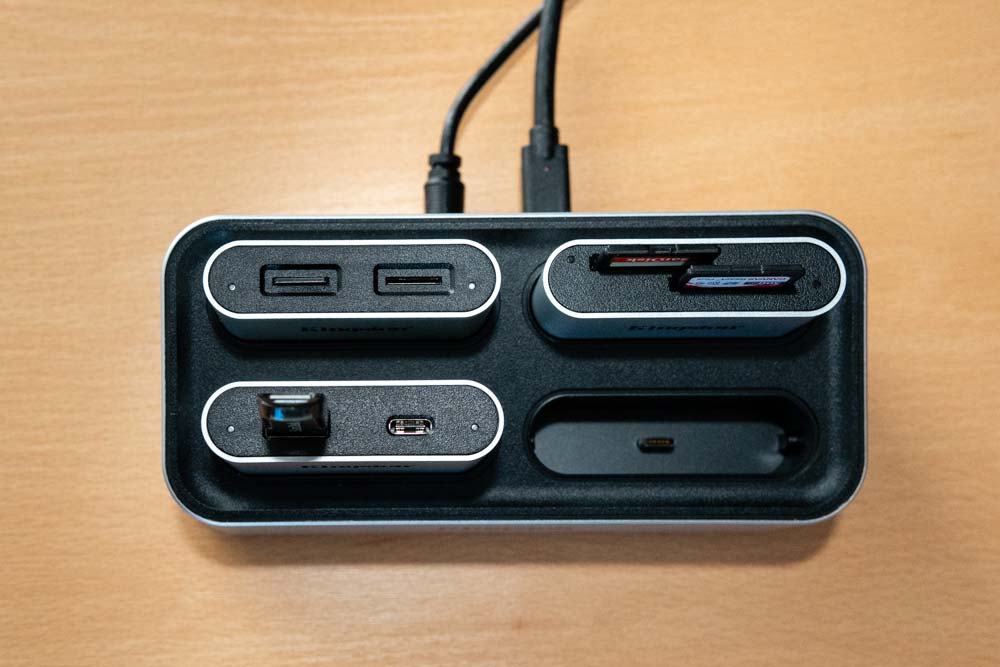 The Kingston Workflow Station
The Kingston Workflow Station consists of a powered base unit that connects to your computer via USB-C and features four slots where card readers and the USB hub can be slotted into position. So the main idea here is that content creators can download multiple memory cards at the same time, ultimately reducing the time it takes to download images, video sound and any other files you keep on memory cards.
The Workflow Station comes with USB-A and USB-C reader/hub, and additional dual microSD and SD card readers have to be purchased separately. And at £102 for the Workflow Station and £39 for each card reader, this is certainly not a cheap option, but you do have the ability to download data from up to eight memory cards and USB drives at once.
The individual card readers each come with a USB-C cable and can be used on the go so you don't have to take the entire Workflow Station with you when on location, which may also be impossible if you don't have a power supply. The card readers themselves are USB powered when used alone and these can, of course, be purchased and used without the Workflow Station if you don't need all four card reader slots.
One downside with the system is that the Workflow Station is powered, which in some ways a hindrance because you have to give up a valuable power socket at your desk to power it, but, understandably, it requires power when you consider that you can have up to four card readers plugged in and downloading from memory cards at the same time. Also, the USB-C cable doesn't come with a USB-A adaptor, so if you intend to connect via USB-A you'll need to purchase an adaptor separately.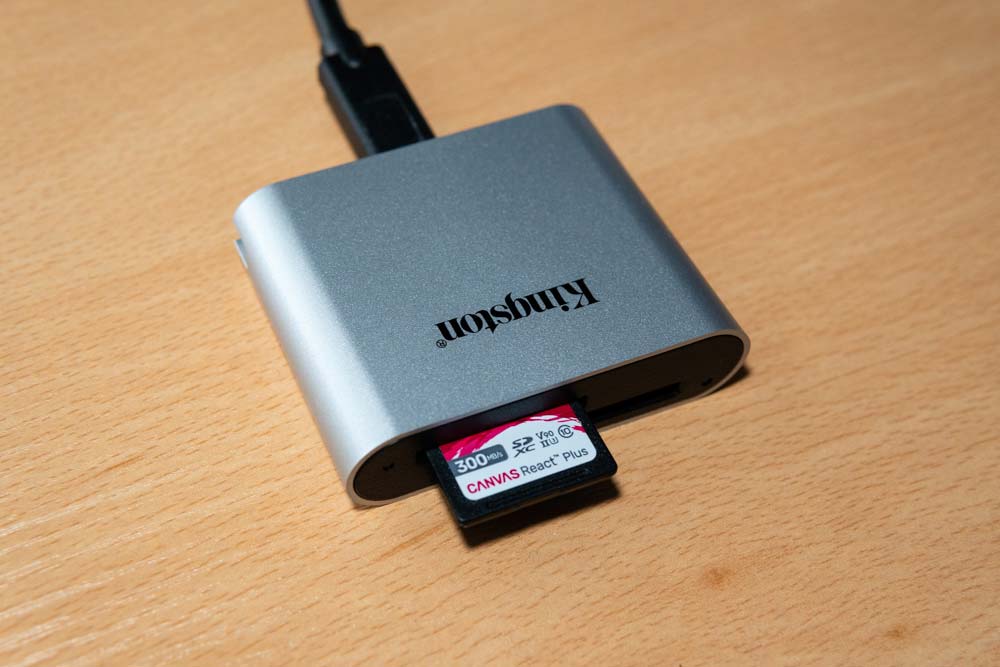 Specifications
Price Workflow Station: £102
Price individual card readers: £39

I

nterface Dock: 

USB 3.2 Gen 2

Interface USB miniHub: 

USB 3.2 Gen 1
Card slots are in UHS-II format (backwards compatible with UHS-I)

Dimensions Dock: 

160.27 x 70.27 x 55.77 mm

Dimensions USB miniHub: 

62.87×16.87x50mm

Weight Dock: 

292g

Weight USB miniHub: 

30g
Compatible with: Windows 10, 8.1, 8, Mac OS (v.10.10.x +)
A familiar concept
The Kingston Workflow Station and readers follow the same modular design principles as the Lexar Professional Workflow CR1 Readers, which also features a base unit and individual card readers that can be used in the base unit or individually. The CR1 also featured small SSDs that could be mixed and matched with different card readers so you could truly customise your workflow.
Another downside is that at the time of writing, the only card readers available are microSD and SD, CFexpress and CF readers are currently unavailable and would certainly be welcomed by many photographers. Modular SSDs, like the Lexar CR1, aren't available, so it would be great to see an expansion in the modular parts available so that photographers and videographers can truly customise their Workflow Station.
With modern laptops offering fewer and fewer USB ports, this is a great option because you don't lose a USB-C connection if you use the included USB-A/USB-C hub. Plus, you gain a USB-A port.
Performance
Testing the Kingston Workflow Station against the single SD card reader in my BenQ monitor, the difference in data transfer speed was in some cases over twice the speed with the Workflow Station when using a single SD card.
This was impressive, but it was when multiple cards were downloading that it did come into its own, as expected. However, when downloading two or more cards, transfer speeds do slow down but the fact that you can just plug them all in, start the downloads and then do something else is extremely useful.
The card slots are in UHS-II format (backwards compatible with UHS-I), so this alongside the USB-C transfer speeds means that potential transfer speeds are fast. I say potential because there are so many bottlenecks in computers that slow data transfer speeds.
Kingston Workflow Station verdict
I have to admit that when I first saw a powered card reader/workflow station I was dubious about how useful it would be; would it be a noticeable improvement over my USB 3.0 card reader and the SD card reader on my BenQ monitor that also connects via USB 3.0?
In reality, transfer speeds were in some cases more than twice