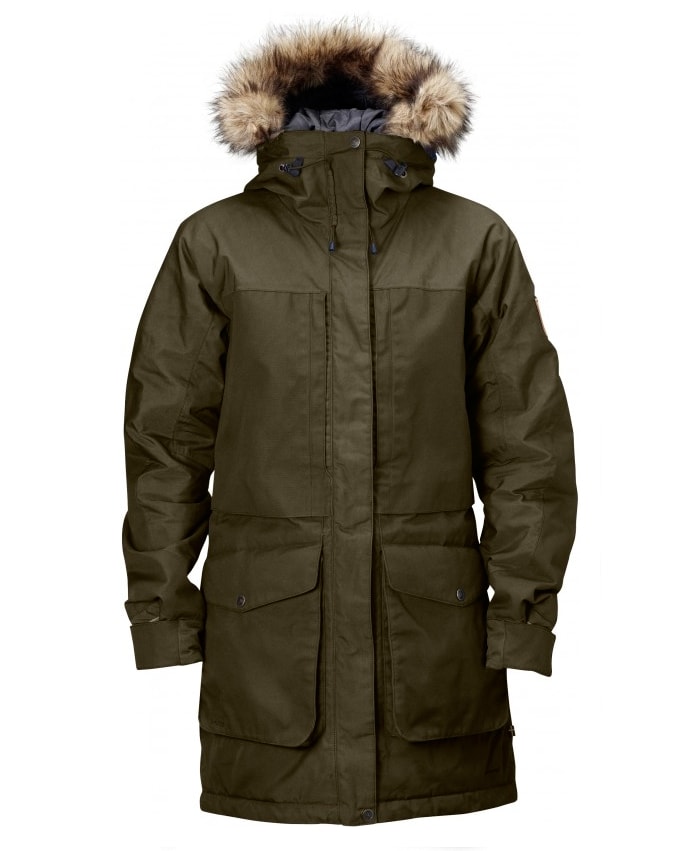 Winter is arguably the best time of year to shoot landscape photography. Sunrise and sunset are at more agreeable times than in the summer, and the sky is clear and haze free. But during these moths, the UK is often cold, windy and wet.
The Fjallraven Barents Parka is a long winter coat that's designed to be worn in temperatures around zero, which makes it ideal for the UK climate. With any landscape photography there will always be long periods of waiting for the best light conditions, so it's important to stay warm and dry. To keep out the wind and rain the outer material is G-1000 HeavyDuty, which is tough and hardwearing. In fact, Fjallraven say it's almost impossible to wear the material out. To increase comfort, the coat features a Hydratic membrane to wick away perspiration while keeping rain and moisture out.
Insulation is provided by Durable Supreme Microloft padding. This is warm, but also lightweight so it doesn't add too much to the overall weight of the coat. A medium size Barents Parka weighs 1935g. All this combined with the length of the coat means it's possible to comfortably sit on cold wet ground while waiting for that elusive shot. The hood is large and adjustable so you can make it fit your head more comfortably. And a detachable synthetic fur edging provides shielding from wind, rain and snow. With the hood up and the edging attached visibility is reduced, so this is best put up only when the shot is composed and the camera is ready to be taken.
Photographers always need storage, so you'll be pleased to hear the pockets are large and numerous. This allows essential kit to be kept close to hand. There are two large chest pockets, a hidden Napoleon pocket, two inside pockets and two front bellows pockets. The latter are large enough to comfortably hold a small DSLR with a lens attached, or a lens as large as a 70-200mm.
Verdict
Buying clothing for photography can be difficult because little is made specifically for photographers. Even less is designed for cold weather. Versatile coats like the Barents Parka can fill the gap perfectly offering style, comfort and practicality. The coat is indeed very warm, and keeps out the wind and rain. Although when walking and carrying lots of kit it can be too warm. It can of course be unzipped as long as it's not raining, but once you're standing still you'll appreciate the protection from the elements.
Fjallraven sizes can be rather generous, and it's quite common to require a size smaller than you would normally. A Barents Parka in small would be the equivalent of other coats in medium. The coat is available in five colours – Dark Navy, Dark Olive, Green, Uncle Blue and Dark Grey. At £405 the Barents Parka isn't cheap, but it's most certainly a high quality coat that should provide years of loyal service. There are few coats designed for the outdoors that are ideal for photographers, but this is one of them.
4/5 Stars
To purchase the Fjallraven Barents Parka on Amazon click here
Size, material & environment information
Price £405
SKU: F81335
Gender: Men
Concept: Outdoor
Weight (FJR): 1935 g in size M
Consumer Material: Padded (Supreme Microloft)
Outer material: G-1000® HeavyDuty: 65% polyester, 35% cotton
Lining: 100% polyamide
Liner: 100% polyurethane
Filling: 100% polyester
Breathability (MP): 7 000 g/m2/24h
Water column (WC): 7 000 mm
Contains non textile parts of animal origin: Yes
For more information visit www.fjallraven.co.uk
Subscribe to this blog