I often get asked what kit I use for shooting different photographic subjects, and one that comes up regularly is landscape gear. For this type of photography I like to keep things as light as possible because there's often a lot of walking involved. And if I'm camping as well as hiking, I even take less kit with me – just the bare essentials. Below you'll see my most essential kit, which is minimal to say the least. But why carry what you don't need?
The vast majority of my work is shot on my full-frame Nikon DSLR, but for time where I need the smallest lightest kit possible I shoot with a Fujifilm X-T1 and Samyang 12mm f/2 lens with either Hoya screw-in filters or my NiSi filters. The advantage of the second kit is that it's super lightweight and small, but the downside is the 16MP resolution of the camera. Although this is high enough to print up to A3 without the need to interpolate images in Photoshop.
As APS-C and Micro Four Thirds compact system cameras have improved in image quality they can often compete with full-frame DSLRs. The most compelling aspect of these cameras is the dramatic size and weight savings that can be made on cameras and lenses. Not to mention the excellent image quality they produce.
Landscape photography kit
Ultra-light landscape photography kit
Behind the scenes
---
The Digital Darkroom: The Definitive Guide to Photo Editing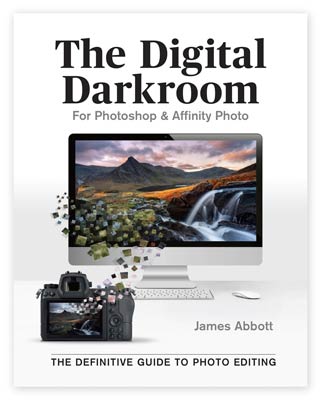 My new book, The Digital Darkroom: The Definitive Guide to Photo Editing is now available. Photo editing is a vital part of the image-making process. Just as darkroom techniques were important skills to learn in the days of film, a clear understanding of post-processing is now key to getting the most out of your digital pictures. Easy to follow and accessible for readers of all levels of knowledge, The Digital Darkroom is the definitive guide to post-processing for users of Adobe Photoshop and Affinity Photo.
To find out more and order your copy click here
---
Improve your photography and Photoshop skills with a 1-2-1 training session
If you enjoyed this post you can support this blog on Ko-fi here
Check out more of my Photoshop tutorials on my blog, or visit my YouTube channel where you can subscribe to stay up to date with new videos www.youtube.com/jamesabbottphoto
To take a look at my landscape photography click here
Subscribe to this blog